Resin-ator Guitar
"RESIN-ATOR" GUITAR – PLAYABLE ART
Hand-sculpted by J PETER BOLES – Singer / Songwriter
of Hand-Picked Acoustic Music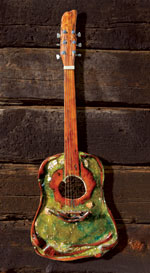 "The curves and lines of a tree need to be celebrated. A piece of wood is a book that has never been opened." J Peter Boles opened the book and created the "Resin-ator" Guitar, a singular work of art and an amphibious, waterproof guitar. He calls it "Playable Art."  Peter took a chainsaw, a handful of old chisels, railroad spikes, and a four pound mall and created a guitar! Its' body is lustrous, translucent emerald green epoxy resin with tan and yellow undertones, framed by warm red California "mountain mahogany" driftwood. The sound hole is softly sculpted wood surrounding a piece of abalone shell.
For Peter, wood is an adventure, a taste of history, and his source of inspiration. He scours the Southern California coastline looking for those pieces of wood that fire his imagination. In the branches, roots, burls and trunks washed up on the rocks, he sees the natural forces that give each piece its unique qualities. "A tree grows according to its' needs and the forces of nature — building strength to balance against the wind, reaching out for sunlight, and searching underground for water and minerals."
HAND-MADE FROM OCEAN-SWEPT DRIFTWOOD & FOUND ABALONE IN A CUSTOM POLYMER RESIN COMPOSITE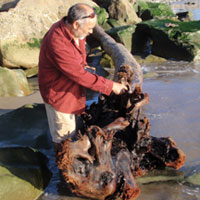 J Peter did not set out to make a playable guitar; rather he was looking at a tree branch and saw the neck, heel, and top of the body.  He saw the natural order in the wood. "When you cut into a tree, it opens up new dimensions".  The Resin-ator came from driftwood that was carried to the ocean by a storm, weathered and eroded for years. With many different projects in the fire and working as a full-time singer/songwriter, he set it aside for several months until he picked up the chainsaw.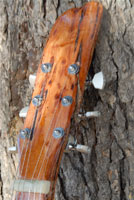 This makes sense — if you're going to split your guitar neck with a sledge hammer and railroad spikes, the only tools to sculpt it with are a chain saw and adze. He shaped the neck, fret board, and top of the body. He fashioned the sound hole from the base of that piece. He then butterflied a manzanita burl into the shapes that frame the outline of the guitar body.
With his years of experience building surfboards, boats, and custom Corvettes, his unique epoxy resin composite became the body of the instrument. "When I saw the guitar in the tree branch, I had a pretty clear idea what I was going to do. It was preplanned."  Using a sand mold, the neck, bridge, and sound hole parts were laminated with mother of pearl inlay and a proprietary blend of swirled colors.
"IT'S A VERY DISTINCTIVE SOUNDING FRETLESS SLIDE GUITAR"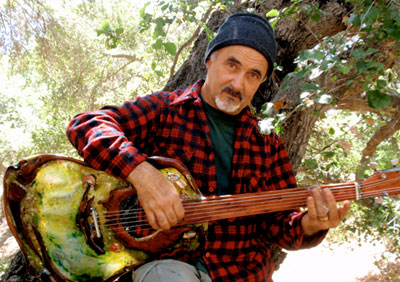 "It was intended to be visual art. But the way it felt in the hand seemed like it would have a great resonance.  I had to string it, and it turned out that it's a very distinctive sounding fretless slide guitar." At this point you could call it accidental art or, as Peter prefers, Playable Art.
"When I started, I wanted a guitar you could paddle a canoe with." When Peter said that, he thought he was joking, but on his soon-to-be-released video, he will paddle a canoe with this  waterproof guitar.
HE PADDLES A CANOE WITH THIS AMPHIBIOUS, WATERPROOF GUITAR!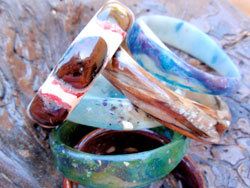 With materials gleaned from beaches up and down the west coast, and an unlikely blend of organic and recycled materials, he also creates vases, fountains, bracelets, a fireplace mantel, and even a canoe. The brilliant epoxy resin colors catch the light, creating a beautiful translucence.   When you look at his art pieces, you want to touch them.  Every J Peter piece is individually designed and hand-sculpted, creating an extremely unique work of art.
Order your own custom instrument of choice with the shape, color ,and ingredients you prefer!!  Peter will use his "Resin-ator" method to make your original "playable art" instrument. To order, contact 805.649.4225 or music@jpeterboles.com.
J PETER'S ORIGINAL SONGS ARE A "SEAMLESS BLEND OF
FOLK / COUNTRY / BLUEGRASS / BLUES"
Singing and songwriting is J Peter's full-time job and passion.  To listen to his original songs, go to http://jpeterboles.com/listen_and_buy/. His albums are available through CD Baby,  iTunes, Amazon & more.  "Christmas Sky" is available at most BEST BUY stores in L.A., Ventura, and Santa Barbara Counties.